Enric Enrich
Departament de Tecnologies i Gestió de la Música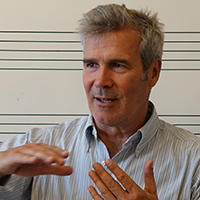 ---
Enric Enrich exerceix com advocat a Barcelona des de 1980, actualment a Enrich Advocats, dedicat al dret mercantil en general i dret de l'entreteniment i al assessorament en general a les empreses i persones de les industries creatives.

Està especialitzat en dret mercantil, internacional i dret de la propietat intel·lectual i imatge, matèries sobre les quals imparteix classes i escriu. Representa a clients nacionals i estrangers als diversos sectors de l'entreteniment i les indústries culturals i musicals en tot allò relacionat amb la protecció de drets, negociació, redacció de contractes i resolucions de conflictes.

Ha presidit la Secció de Drets de Propietat Intel·lectual e Imatge del Col·legi d'Advocats de Barcelona, i el comitè de Entertainment and Copyright-Intellectual Property de la International Bar Association (IBA).

És àrbitre de l'Organització Mundial de Propietat Intel·lectual (OMPI) i de la Independent Film & Television Alliance (IFTA, abans AFMA), membre de la International Association of Entertainment Lawyers (IAEL), i ALADDA, secció espanyola d' Association Litteraire et Artistique Internationale (ALAI).