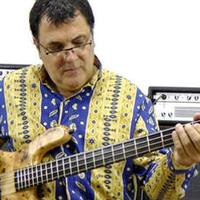 ---
Títol superior en l'especialitat d'intèrpret de baix elèctric de música moderna (ESMUC)
Concerts i gires amb Luis Salinas, Lucrecia, Peter King, Paquito Deribera, Alex Acuña, David Friedman, Visctor Mendoza, Chavela Vargas, Judy Niemack, Laura Simó, Delmar Brown, Diego Amador, Patato Valdés, Perico Sambeat, Dave Samuels, la Susi.
Escalé, Ribalta, Zamora: "ERZ Cafè".

Xalupa: "Un sord s'ho escoltava"

Lucrecia: "Prohibit".

Carles Cases amb Paquito D'Ribera: "Actrius".

Lucrecia: "Els meus Boleros".

Big Band Jazz Terrassa & Judy Niemack: "What goin'on?

Steve De Swardt: "Live at Jamboree".

Salvador Niebla: "Blau".

Big Latin Band: "29 Festival de Jazz de Barcelona".

Princes Of Time: "Just in Time"

Lucrecia P. Deribera i Chavela Vargas. "Cubáname".

Lucrecia P. Deribera i Patato Valdés: "3 Generacions deMúsicosCubanos"

Els Especialistes: "Món Revetlla".

Big Latin Band: "Suite Llatina".

Alfons Carrascosa i Segon Conclave: "SegundoCónclave".

Xavier Baulies amb Carme Elías: "Cel Subtil"

Ernest Orts Quartet: "Aluap".

Joan Sanmarti: "Altres Cançons".

Agusti Mas Blues Ensemble: "Playing with The King"
Publicacions en les revistes Bateria Total, Guitarra Total, Music Today.
Professor titular al Conservatori Superior de Música del Liceu i a l'Escola Superior de Música de Catalunya.