Official Master's Degree in Flamencology (online)
ECTS
60
Duration
1 year. It can be taken in 3 years, with a minimum of 16 ECTS/year
Calendar
Welcome meeting: September 11, 2023
Classes begin: September 18, 2023
Mode
Online
Fees credit
41,15 € 
The acceptance of flamenco as an academic object and its inclusion in conservatories and universities leads us to open and explore new concepts and methodologies in its advancement and research. Flamenco is today a universal art that breaks down the barriers of the strictly musical or artistic to become an expression worthy of a rigorous multidisciplinary and empirical approach.
The Master's Degree in Flamencology offered by the ESMUC is OFFICIAL and allows you to get to know this art in a global way. It addresses its history and sociology, as well as its most relevant musical aspects. It deals with aspects related to the promotion and management of flamenco, as well as its communication and teaching. It gives us guidelines for conducting research on the flamenco genre, thus contributing to the creation of new approaches to the study of this universal art.
The Master's in Flamenco is aimed at university graduates or graduates from all disciplines. Candidates must have a bachelor's degree: preferably in all branches of the humanities, in art history, in history and music sciences, graduates in music, communication sciences, audiovisual communication, etc. Graduates in other university disciplines will also be admitted, studying on a case-by-case basis.
Given the musicological orientation of the master's degree, it is necessary to have basic musical training.
| Type of subject | ECTS |
| --- | --- |
| Mandatory common | 20 |
| Compulsory specialty | 22 |
| Optional subject | 6 |
| Final master's thesis | 12 |
| Total credits | 60 |
Competences for obtaining the degree
General competencies
Specific competencies
| | |
| --- | --- |
| IN-1 | Get acquainted with the historical, musicological and critical literature related to flamenco. |
| IN-2 | Get to know the world of flamenco management: business, market strategies, communication, as well as everything related to its management. |
| IN-3 | Get to know the musical structures of the flamenco repertoire, with the ability to fully value its syntactic and sound aspects. |
| IN-4 | Get to know the artistic, historical and social conditions in which flamenco has developed. |
| IN-5 | Know the different research methodologies and know how to apply them to the study of flamenco. |
| IN-6 | Acquire the critical capacity to value the products of the musical activity of the different stages of flamenco from a perspective that integrates artistic, historical and social aspects. |
| IN-7 | Develop knowledge based on a critical and analytical sense of the repertoire of their specialization. |
| IN-8 | Know the relationship between flamenco and other arts. |
| IN-9 | Apply the supports offered by new technologies in the service of music research. |
| IN-10 | Demonstrate, based on Master's studies, that they could continue their self-taught training. |
| | |
| --- | --- |
| CG-1 | Recognize the structures of their own musical materials and know how to apply this knowledge in the field of research. |
| CG-2 | Demonstrate the ability to interact in the field of research in its different areas. |
| CG-3 | Demonstrate that you have the skills, knowledge and understanding in the field of research to expand this knowledge and apply it to new innovative proposals. |
| CG-4 | Develop skills for self-training in your career. |
| CG-5 | Have the ability to link their own research activity with other disciplines of scientific and humanistic thinking, the arts in general and other musical disciplines in particular, giving their profession a multidisciplinary vision. |
| CG-6 | Argue and verbally express their views on various musical concepts. |
| CG-7 | To know new methods of study and research that contribute to its continuous development. |
| CG-8 | Demonstrate the ability to interact with different participatory research projects. |
| CG-9 | To know the historical development of music from a critical perspective in a social and cultural context. |
| CG-10 | Communicate in writing and verbally the content and objectives of their professional activity to specialized people, with an appropriate use of technical and general vocabulary. |
| CG-11 | Know and apply the legislation related to their professional field. |
| CG-12 | Possess and show knowledge that provides the basis for transferring them into practice in an original way; or developing ideas, mainly in the context of research. |
| CG-13 | Know how to communicate the conclusions, knowledge and theories on which they are based, to different audiences, in a clear and precise way. |
| CG-14 | Know how to apply and integrate knowledge in new environments, from multidisciplinarity demonstrating the ability to solve problems. |
| CG-15 | To know the key theories and methodologies for the analysis of flamenco as a musical manifestation within the framework of Andalusian culture. |
| CG-16 | Know how to interpret the stages of the historical development of the flamenco genre as an element of Andalusian and European culture |
| CG-17 | Understand the cultural and ideological implications of the ascription of flamenco to art. |
Faustino Núñez. El sistema musical del flamenco | El cante flamenco | El baile flamenco

Guillermo Castro. Antecedentes musicales del flamenco | Documentación histórica del flamenco | El flamenco en las artes | La enseñanza del flamenco

Rolf Bäcker. Archivística y documentación | Historia del flamenco

Maria Jesus Castro. História del flamenco en Cataluña | Flamenco y tecnología

Rubén López Cano. Metodologías de investigación

Joan Asensio. La guitarra flamenca: el toque

Daniel Muñoz. El negocio del flamenco y su comunicación

Francisco Aix. Sociología del flamenco
Depending on the number of credits, each subject has a determined intensive teaching period of (2-3 weeks). Academic periods of the subjects do not overlap. During these periods, professors are available to resolve all their doubts and to maintain the necessary asynchronous contact. During the teaching period, students have access to all the material necessary to develop the master's degree skills.

There is no set school schedule. Each student is autonomous in directing his work rhythm (within the teaching period of each subject). For each subject, the assignments that certify learning outcomes will always have a period of two extra weeks after the end of the teaching period.
Master's degree verified by the Agency for the Quality of the University System of Catalonia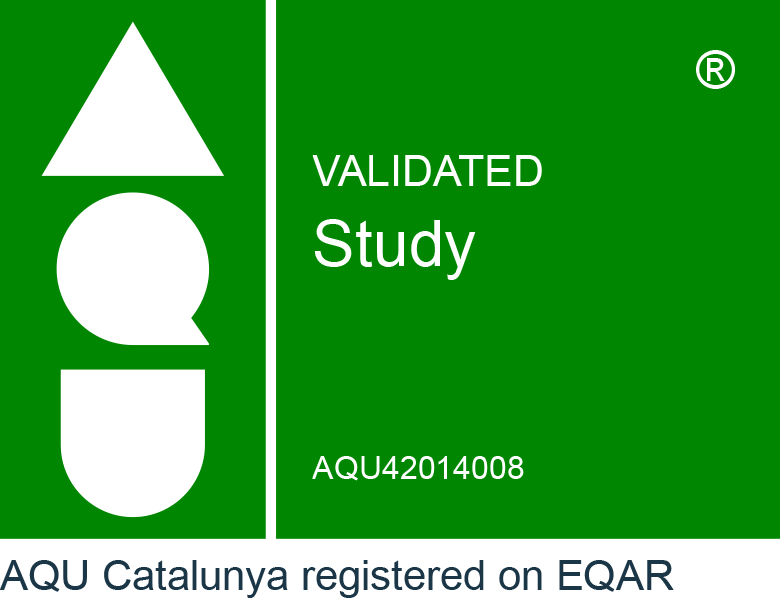 ---
Do you want more information?